▀▄▀▄ Vivid Racing | Swift Springs | Awsome Ride| Best Customer Service

Vivid Racing Presents:
Swift Springs for the Fiesta ST
MSRP $419. PM, call, or email for FORUM Exclusive Pricing!


Todd@vividracing.com | +1.480.966.3040 x243 | www.vividracing.com
Here at ViVid Racing, We are proud to announce that we are carrying some of the best springs available on the market. Swift has produced products
that not only perform well, they can be comfortable as well. Whether you are on the Track or Just cruising the streets, They have an application
that will suite your needs. We have a few sets in stock and are ready to go out at a moments notice. If you need a custom set up or specific spring
rates, feel free to contact us for more information and options available to you. As a parts distributor we are constantly trying to provide the best
products for our customers. Like always, if you do not see it, or you have questions on items CALL US. Providing the best customer service is
our #1 Priority.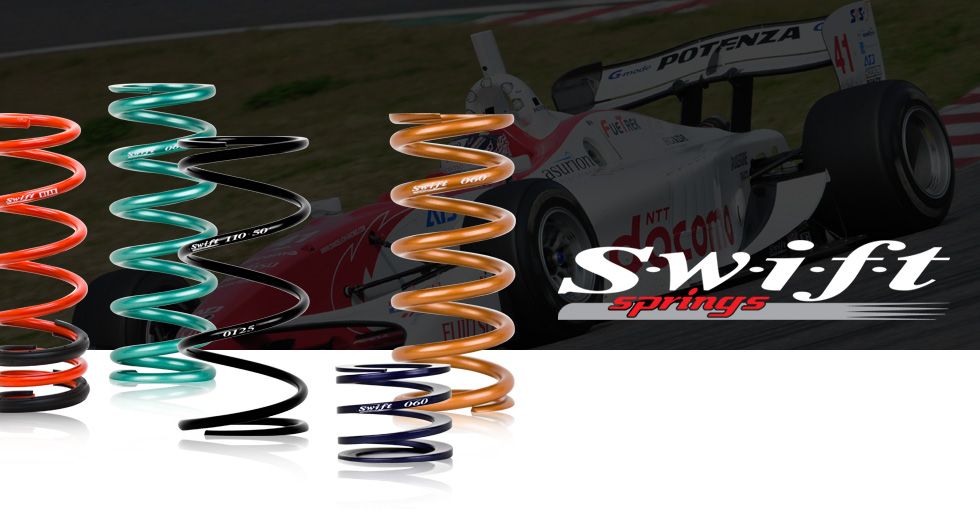 Every car has their usable stroke
Most enthusiasts have had experiences with the typical harsh and uncomfortable ride from lowering springs. Performance is often overlooked by manufactures simply because it is easier to lower a vehicle for aesthetics. The end result is usually a bumpy ride that causes a decrease in traction, or excessive worn shocks caused by lowering the vehicle beyond the usable stroke.
Proprietary material and design to satisfy two contrasting factors
As you can imagine, keeping or improving the comfort level while increasing performance is not an easy task, especially since these two aspects contrast with each other.
Where most of the competition simply gave in to the easier method, Swift Springs decided to tackle this issue by creating our own material (H5S.TW), and unique manufacturing method that works very well for this material. Working in unison, the material and manufacturing method provides a superior level for both comfort and handling.
The way we design the lowering springs
We utilize spring design with fewer coils which not only allows us to decrease un-sprung mass but to also completely eliminate the chance of coil bind, while increasing the amount of usable stroke. Our proprietary material (H5S.TW) has a much quicker transient response, reacting to any road conditions which, in turn, cause a much smoother ride where other springs will skip on the harsh road surface, our spring will react to the road surface as needed.
With the Swift Sport Springs, we expect both street and circuit users to experience an increase in all aspects of suspension tuning from performance to comfort.
Bump Rubber
Suspension usable stroke for the cars now a day is very limited compared to before. To let the suspension do its own job efficiently, many car manufactures use bump rubber as a part of a suspension's functional part, not only to limit the shock stroke but to prevent the shocks from bottoming out. This scenario also applies to real world racing, and we use this as a primary focus when designing the sport springs.
Vehicle characteristics
Swift developed each Sport Springs application based on the individual vehicle's unique characteristic. Put simply, a luxury car will maintain its luxury ride, and sports car will maintain its sports car feel.
Sport Springs Spec-R


Built for track duty, these springs are designed at the upper limits of the OEM damper valving. Track tested and tuned for optimum performance, yet comfortable enough for a daily driver.​

Ordering:
Phone
:
You can reach me directly by calling +1.480.966.3040 x243 to place your order over the phone.
Payment Methods
:
- Credit/Debit Cards (Visa, MasterCard, Discover, American Express)
- PayPal
- Affirm – Now you can finance your parts!
- Bank Wire
- Bill Me Later
- AZ Orders will incur 7.8% sales tax
- All international orders (outside of US and Canada) require Bank Wire or PayPal
Shipping
:
We have very competitive worldwide shipping rates. Most orders leave via FedEx, however we do use UPS, DHL, and various freight companies. The most efficient shipping method takes precedence. Expedited shipping is available by request.
Hours of Operation
: We do not observe Daylight Savings Time in Arizona
March-October: M-F 9am-6pm PST
November-February: M-F 8am-5pm PST
We are closed for business Saturday and Sunday
Contact Information
:
Phone: 480.966.3040 x243
Email:
[email protected]
Website:
www.vividracing.com
Please feel free to contact me via PM, Email, or Phone if you have any questions.​