So I met with LeatherZ again today, and saw the prototype of the armrest. It looks great, but it is a prototype still (wood). The company wants to do this right, but currently mainly builds custom BMW interiors. The issue is that the Focus ST armrest and the Fiesta ST armrest are essentially the same except the Focus armrest is wider. The company prides themselves on quality. They will be creating a mold for this project and to do so and create armrests costs a chunk of money to do at the right cost. The company needs 40 units to get enough feel to make it worth the development. I'm not sure if this crosses the vendor line on the forum. LeatherZ will gladly be a supporting vendor IF they can prove the demand for the product. This is not the forums issue, I know. Everything I have seen for this car has been a cheap semi-diy cover. This will be a complete factory armrest replacement, with nice leather and stitching. The company will most likely start a kickstarter, unless we can get some serious pull here. If it would fit both cars it wouldn't be a question.
The price: Around $90 for un-stitched $140 in color stitching color Molten Orange ( seat matching, finalizing color choices currently) and/or black and/or gray are currently in the mix.
Specs:
The armrest is 2.25" longer than stock. -- This was decided by the community on the initial poll and then between a few people including myself we tried the two different 3" and 2.25" size. Everyone went for the 2.25" over the 3".
It is very comfortable and feels excellent when driving. The extension helps people like me who sit close and people who sit farther as the plane on it is developed nicely.
Con:
The back cup holder will still be usable, but tough maybe impossible to fit a 64 oz Big Gulp in there with the armrest closed completely. This didn't bother me at all. It is still completely usable, and i don't drive around with big A drinks like that which tend to spill anyway. Plus the doors have cup holders in them, because MURICA.
Pics soon.
Here are the photos. I put a few filtered color ones in so people can get an idea of what it would look like in their colors.
The original is to match the molten orange. It currently is very close color wise. It will be improved on the final product.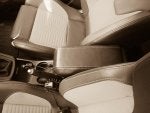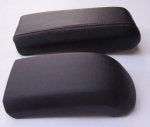 AGAIN THIS IS A WOOD PROTOTYPE, the final product will be much nicer and molded like the factory armrest. It will also have a stitching option, I believe single and double are the only two in the mix right now.