Discussion Starter
·
#1
·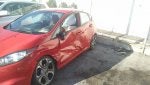 I had the green arrow to make a left turn, and a 2013 Toyota Highlander in the perpendicular lane to my left decided to blow a red light going about 40-45 mph and hit me dead on without applying the brakes. As evidenced by the two impact points on my driver's door and rear door, he didn't even apply the brakes after he hit me. I was pushed sideways about 30-40ft.
I am mostly annoyed, because this was one of the first Fiesta ST's built in October 2013, and I was one of the first ones in my area to have one.
It will most likely be totaled due to the deployment of all the curtain airbags, and the drivers seat airbag.
But the most important thing is that I am ok, just a few scrapes and a slight tear in my rotator-cuff leading to discomfort, but my Fiesta ST sacrificed itself to save me, and for that I am grateful.