After finding the factory setup wanting, I have installed a new set of speakers.
I put Kicker CompVT 08CVT654 (6.5" subwoofers) in the rear doors. Big bass improvement even without amplification. I removed the factory speaker from the adapter and used it to mount the Kicker.
I put Infinity Primus PR6500cs (6.5" woofer with separate tweeter) in the front doors. I removed the factory speaker from the adapter and used it to mount the Infinity. I hot glued the crossover in an open area on the door. I removed the factory tweeter and hot glued the new one in.
And I have aRockford Fosgate R2S-1X10 Prime R2S Single 10-Inch Shallow Loaded Enclosure under the rear floor waiting for next weeks amplifier install.
Ok, I finally got around to installing the amp and subwoofer.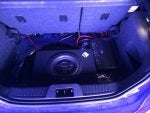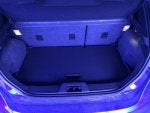 The subwoofer does not touch the false bottom panel. I just have it laying on the spare and it the carpet is enough to keep it from sliding around.
The Amp is a JBL GTO-5EZ 5 Channel Amplifier. It is good for an install like this because it helps you properly adjust the gain and you don't need a remote turn on.
There were two painful parts to this install. One was running the power wire. I ran it through the side instead of the firewall.
The other part was running the speaker wires. I know there is an easier way, but I ran lead wires from the head unit to rca converters near the amp. Then I ran the speaker wires from the amp back to the factor wires behind the head unit.
So that was eight sets of wires, (Painful process).
I am pleased with the result. Now there is ample bass (for me) and a descent stage upfront. I did put dynomat on the doors so there is not very much panel vibration.
I used this for the speaker wire colors:
Car Radio Battery Constant 12v+ Wire: Yellow/Red
Car Radio Accessory Switched 12v+ Wire: Brown/White
Car Radio Ground Wire: Black/Blue
Car Radio Illumination Wire: Blue
Car Stereo Dimmer Wire: N/A
Car Stereo Power Antenna Trigger Wire: N/A
Car Stereo Amp Trigger Wire: N/A
Car Stereo Amplifier Location: N/A
Car Audio Front Speakers Size: N/A
Car Audio Front Speakers Location: N/A
Left Front Speaker Positive Wire (+): White
Left Front Speaker Negative Wire (-): White/Brown
Right Front Speaker Positive Wire (+): White/Violet
Right Front Speaker Negative Wire (-): White/Orange
Car Audio Rear Speakers Size: N/A
Car Audio Rear Speakers Location: N/A
Left Rear Speaker Positive Wire (+): White/Green
Left Rear Speaker Negative Wire (-): Brown/Yellow
Right Rear Speaker Positive Wire (+): Brown/White
Right Rear Speaker Negative Wire (-): Brown/Blue