Anybody ever hear of the cooler being removed?
I have the water lines pulled and oil filter off but there is nothing apparently I can unbolt to pull off the cooler housing so either spun on and have to pull the AC compressor out of the way or drop the pan to see if bolted from inside the block. It would be a press fit as well. I just hope it can get it off and bolt on the Mocal oil cooler plate as really do not want to leave it on, dead weight and much less room for routing big AN lines and using a bigger oil filter.
I might drop the pan and take a look as do want to delete the balance shaft(s). I have no info on doing so on this car so hopefully no major issues in doing so, I doubt it, talked about on other threads but it seems no body has done it or at least posted about it.
As for the water to oil cooler I had not looked over the hoses before this, I figured they came from the radiator but not so, one is teed with the line to the overflow tank and into the block, the other goes to the heater core in the dash. That makes it easier in a way, just hook the two lines together.
I am considering an almost flat mounted oil cooler behind the air dam under the bumper, cut a hole in the dam, duct air up and into the cooler and out the back so to keep the weight real low but above the danger zone of bottoming out and keep the hot air from hitting the radiator.
Also going to open up the radiator shroud while at this.
Doing all I can for cooling as well be making some serious power before long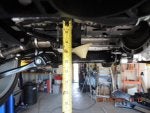 Tab to remove stock cooler.
I need to clean up my shop!
Vented fan shroud, I got a bit into it